Fortiza® was developed to answer the problem of how to add value to a property without adding cost. Only the worlds inventor of stone coated roof tiles could satisfy this dilemma, and in 2010 we commenced a project which examined our existing world class product engineering to discover where we could achieve savings in cost but still deliver a product that was durable, and whose colour doesn't change.
The result was Fortiza® and we've passed on those savings directly to you, so now quality stone coated metal roof tiles are an affordable option for businesses who demand quality but where costs are a paramount consideration.
OUR TILES ARE BIGGER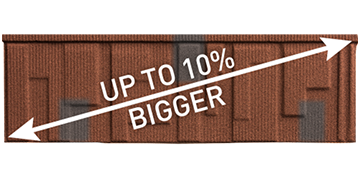 Fortiza® tiles cover 10% more than industry standard sized tiles so using Fortiza® means you use less tiles per m2 and less timber.
ADDING BEAUTY AND VALUE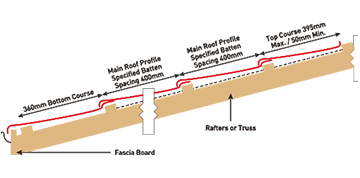 Because Fortiza® is a bigger tile and easier to work with, it is one of the quickest roofs to install. This means less labour costs and a shortened build time.
In addition, with each tile secured to the roof battens through the tile to the left, right, two tiles above and two tiles below, a Fortiza® roof is incredibly secure against both the weather and intruders.
AT A GLANCE
Alu-Zinc Steel
Fire Resistant (Tested to FNE10511)
Genuine Stone Coating
Colour that will not change
Global Manufacturer
Secure Roof
Full range of accessories
Fast installation
Written Warranty
Stock available to take away